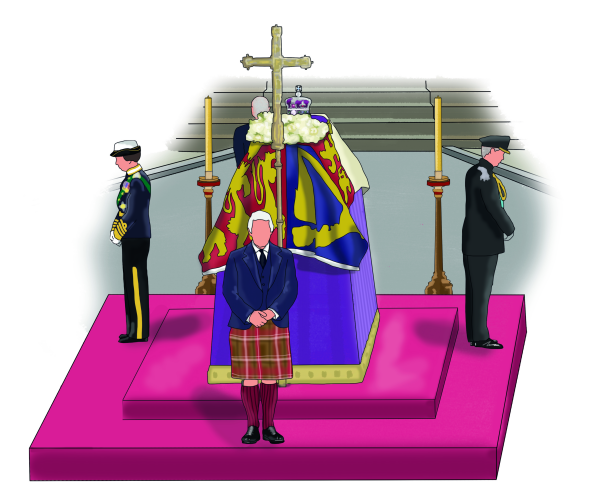 Imagine if Her Majesty, Queen Elizabeth II had wanted to be buried without having a funeral service? Imagine not one single person being present to mourn, no one to remember a life that was lived and loved. Imagine that no one was there to pay their respects and acknowledge the amazing things that were achieved throughout her life…
The disappointment of her family, friends, staff and indeed the millions of people in the UK and the world would have been heartfelt because, for many, funerals are an important part of saying goodbye.
The subject of funerals can be polarising in today's society.
Some people don't see the need for a funeral service because they believe the ritual is not important to them and the cost can seem unnecessary when finance is an issue and they may have seen cheaper more direct solutions advertised.   We often hear the phrase 'I don't care, I'll be dead' or 'just stick me in the bin and save the money' so a direct cremation is often their suggestion. For their family however, those having to live with their loss, this maybe far from what they expected to happen and can further add to feelings of despair and grief at a time that is already very upsetting.
Communicating your funeral wishes
As funeral arrangers and cremation facilitators, we have seen situations where a direct cremation has been pre-arranged by the now deceased but the family left behind had no idea what arrangements had been made – or more importantly what arrangements had been left out.  The realisation that a funeral they thought had been arranged and paid for doesn't include a service, doesn't allow for a eulogy or enable them to bid the coffin farewell can amplify the distress felt by family members and loved ones.  For those left behind there is often an overwhelming sentiment that it was a life worth celebrating before the final act of committing the body.
The Queen's funeral is the perfect example of the importance of discussing your funeral plans with your loved ones before it is too late.  Reportedly 20 years in the making, we can be confident that The Queen's funeral plans would have been known by her immediate family for some time and that the service was set out was just how she and they wanted it.  From the readings to the committal and everything in between, the service reflected her life and beliefs, and her family knew what would be happening and that they would be able to pay their respects – including her beloved corgis and pony.
Funerals are for the living too
Many people feel that funerals are all about the deceased.  Whilst it is right that elements of the service should reflect the life lost, the ritual of a funeral has for millennia, been a way for people to process death.
Whilst the pomp and scale of the Queen's funeral isn't something that the vast majority of us would ever command in our death, the fact that so many people came together to mourn the loss of someone who held a special place in their hearts shows that the ritual of funerals are still necessary and help those left behind process their loss.