Memorials
For thousands of years mankind has felt the need to erect a memorial to mark the sense of loss, love and respect felt for a family member or friend. It provides a focal point of affection and remembrance as a celebration of a much cherished individual life. It is a statement of not being forgotten. It can be an expression of undying love and a help in the grieving process through which we are all likely to go at some point in our lives.
Our Objective
There is a wide range of choice both in product and price. As a result, we hope that you will be able to find a memorial that you feel is appropriate in this setting and at a price which you feel comfortable with.
Please do not hesitate to approach a member of our staff if there is anything which you would like to know more about or simply discuss. They are there to be of assistance to you.
Making Arrangements
Our staff are not only at your service to select a fitting memorial, if you require them to do so; but they will also assist you with the necessary paperwork, and make you aware of the terms, conditions and general regulations. They can do this on the site, over the phone, via email, by sending information to you in the post or by visiting you at home. The choice is yours.
Home Memorials
Some people may not want to return to the crematorium but still wish to have a fitting tribute to the memory of their loved one in the familiar surrounds of their own home and often where the memories of that person are felt the strongest.
On-site Memorials
Many of the below options have variations and can be tailored to personal taste. Moreover, we can supply any of the below products and arrange their fitting to any area of the United Kingdom in private addresses, crematoria, cemeteries or churchyards subject to local restrictions and regulations. Please contact us for a personal written quotation.
Rose Garden and Marker Plaques
Throughout our gardens there are areas where established memorial roses have already been planted. The rose is leased which includes all maintenance and a bespoke remembrance plaque located next to the rosebush. Should you wish, a photograph can be added to the memorial plaque. This option is available as a 5-year renewable lease.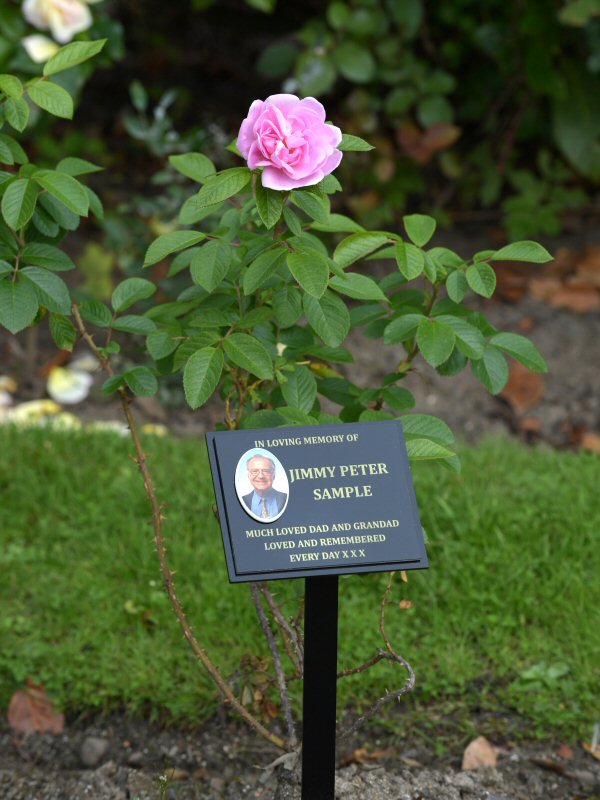 Tree of Life (Waiting Room)
We commissioned the artist Christopher Townsend to create a unique memorial that captures our Woodland setting. The tree represents the connection to our family with an intricate network of branches symbolising how our families grow and expand throughout the generations. Each leaf can have up to 5 lines of text and is available as a 5-year renewable lease.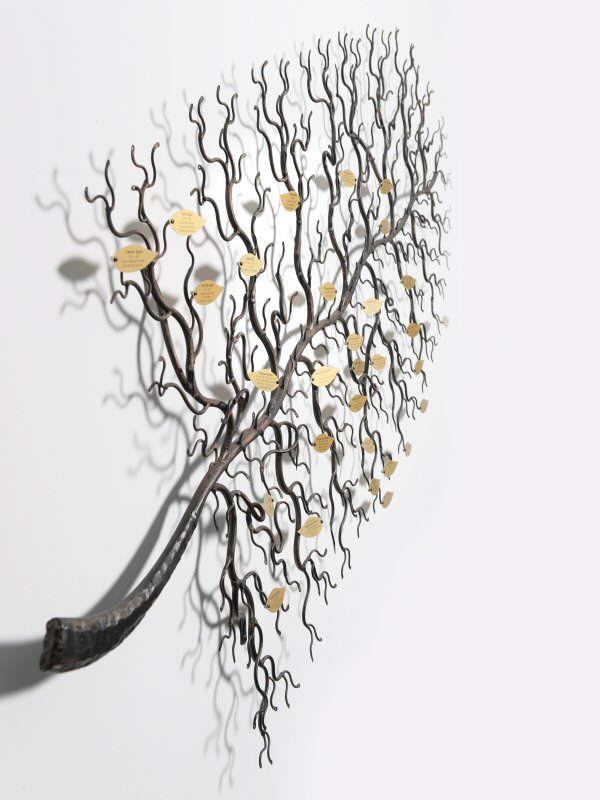 Cloister Plaques (New Garden of Remembrance)
The plaques are situated at the bottom of the memorial garden and are protected by the elements by a canopy. Standard plaques measure 10" x 4" and allow up to 7 lines of text. Double plaques are twice the size and ideal for commemorating couples and can accommodate up to 14 lines. It is also possible to add a photo to this memorial. The plaque is available as a 5 or 10-year renewable lease.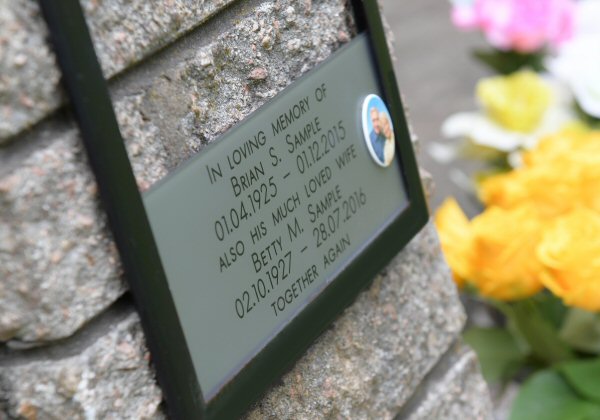 Hill-Top Memorial (Old Garden of Remembrance)
This memorial tower is surrounded on each side by black granite plaques which can accommodate up to six lines of text. Vases are incorporated into the base allowing for fresh flowers to be placed. The Hill-Top memorial is available as a 10 year or 20- year renewable lease.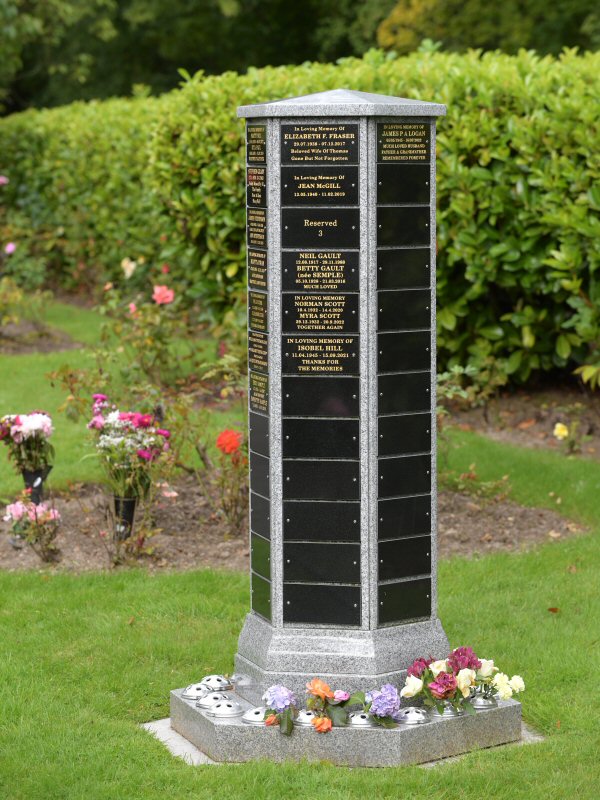 Memorial Sanctum
The memorial Sanctum allows for the secure storage of ashes, and each is large enough to securely accept 2 caskets or urns. They are made from polished granite and the fascia plaque allows for up to 11 lines of text. It is also possible to add a photograph and motif to the plaque. An integrated flower vase allows for fresh floral tributes to be placed at the memorial. This memorial option is available as a 10 year or 20-year renewable lease.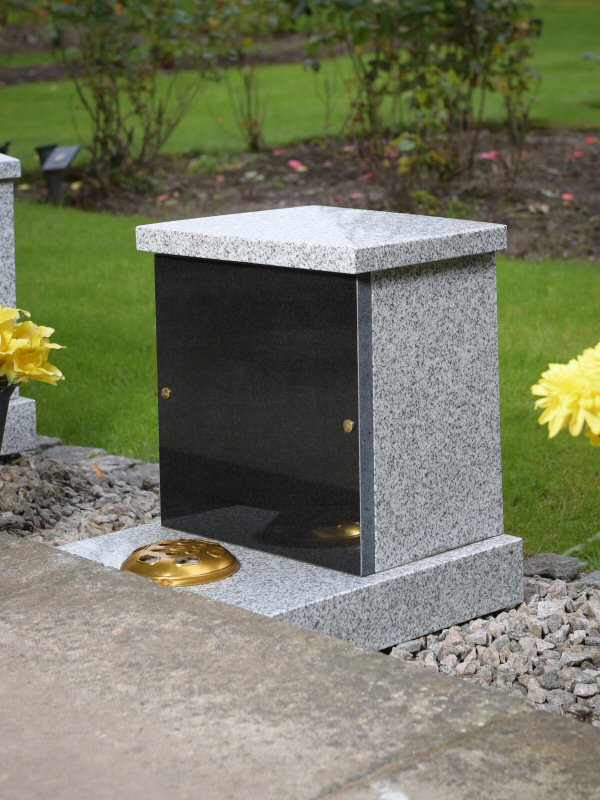 Book of Remembrance
Entries in the book of remembrance are available and can be viewed during normal opening times and are available to view online.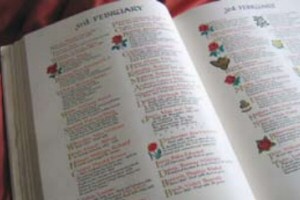 All Memoria crematoria will accept (for no charge) cremated remains for an unattended scattering irrespective of where the cremation took place. Attended scattering services and memorials can also be purchased, at current prices (without surcharge) if desired.